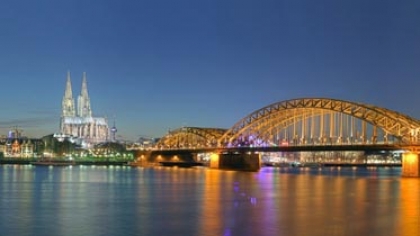 Germany is one of the most attractive locations for international students worldwide. There are many different kinds of universities, which all offer excellent quality. With so many to choose from, it's not always easy finding the right one. We help you understand what's what and show you how you can study in Germany in eight short steps.
There are over 380 officially recognized universities throughout Germany, and they offer a total ofover 17,000 study programs.
Steps to studying in Germany
Finding a university
Germany has public and private universities. They are usually divided into universities, universities of applied sciences and colleges of art, film and music. About 95 percent of the universities are financed by the government and are therefore state-funded. Only 5 percent of the institutions of higher education are private universities. The vast majority of students are enrolled in state-run universities. Anyone studying at these universities pays no or only a nominal amount oftuition fees.
Private universities, which are government approved or recognized, are generally universities of applied sciences. Students appreciate the small study group sizes, the close link to industry and the international focus. Anyone looking to study at a private university may need to pay very high tuition fees. In addition, the degrees are only recognized on the international job market if the private university is officially recognized.
Admission requirements
Anyone wanting to study at a university in Germany needs a so-called "Hochschulzugangsberechtigung" (HZB), or higher education entrance qualification. This lets applicants show that their educational background or professional qualification allows them to study in Germany, i.e. they have the necessary higher education entrance qualification to register for a course. An international higher education entrance qualification lets you study at a German university, provided that the international certificate of education is recognized as higher education entrance qualification in Germany.
Check the requirements
It is important to make sure that you are aware of the recognition requirements. If the certificate of education is recognized as a higher education entrance qualification in Germany, this recognition may apply for all courses (general qualification) or for certain courses (subject-specific qualification). Two to three semesters of study in the home country may be recognized as a higher education entrance qualification in Germany, depending on the country of origin.
Assessment test as part of a preparatory course
If your international higher education entrance qualification does not directly qualify you for admission to study in Germany, you can participate in a preparatory course at a German university. This is where you, together with other international students, develop the technical and cultural requirements to successfully study in Germany. The preparatory courses offer different core subject areas, such as medicine, technology or economics. They generally end with the assessment test after one year. After successfully completing the assessment, graduates are permitted to study the subjects that correspond to the subject areas in the preparatory course anywhere in Germany.
German language skills
The language of instruction at German universities is German in most courses. So you will need an adequate knowledge of German and must be able to demonstrate this knowledge in order to participate in the course. This does not generally apply for students in international courses or certain post-graduate courses. Anyone only wanting to study in Germany for one or two semesters may also not be required to provide evidence of their knowledge of German.
A good idea is to check with the relevant university'sInternational Office.
International office
Every university has an International Office (or Akademisches Auslandsamt). It is the central contact for international students and those interested in applying for a course.
Every university or university of applied sciences in Germany has an Akademisches Auslandsamt (AAA) or International Office (IO). They help international students and those interested in applying for a course to resolve all organizational issues relating to their studies. In particular, International Offices provide advice and support international students in the following topics:
Course offer and course organization

University entrance qualification

Language proficiency

Application and admission

Dates and deadlines

Course preparation and course entry

Course fees and financing your studies
International Offices hold frequent introductory and orientation events. This helps international students familiarize themselves with the institutions and the processes at the university. Some International Offices have also established mentor programs. In these programs, local students provide support for international students. They help answer questions on the course, dealing with the authorities and everyday problems.
Financing your studies
Germany is not expensive in a European comparison. However, secure funding is very important for the success of your studies. The associated costs at a glance.
International students completing their entire (or part of their) course in Germany need to consider different costs. To get a better overview, you can distinguish between education and living expenses.
Education expenses and tuition fees
The semester fee is generally payable at all universities and for all students in Germany. It has nothing to do with the course fees, and is compiled of fees for the student union and for the student administration (AstA). At many universities the semester fee also includes a semester ticket for local public transport. The actual amount differs for each university, but it will be somewhere between 100 and 250 euros. The semester fee needs to be transferred on enrolment for the course, before the start of every new semester. Whether there are any additional costs for course material or textbooks depends on the specific course.
THE SEMESTER FEE AT THE UNIVERSITY OF COLOGNE IN THE 2014/15 WINTER SEMESTER IS COMPRISED OF:
Student administration: EUR 8.77
University sports activities: EUR 1.75
Semester ticket: EUR 162.80
Faculty allocation: EUR 2.10
Student union: EUR 59.00
Total: EUR 234.42
Visa application
International students often need a visa to travel to Germany. This depends on the country of origin and how long you want to stay.
International students looking to study in Germany will generally need a visa. This excludes students from the European Union (EU), the European Economic Area (EEA) and Switzerland. These students only require a valid ID card or comparable identification to travel to Germany. Students from these countries can register at the city's registry office as soon as they have found an apartment. This is where they will receive a residence permit for study purposes.
There are also a number of countries for which students can obtain their necessary residence permit for study purposes after their arrival. These include Australia, Israel, Japan, Canada, New Zealand, South Korea and the United States of America. It also includes the following countries, provided that the student does not intend to work in Germany before or after completing their studies: Andorra, Brazil, El Salvador, Honduras, Monaco and San Marino.
Visa process for international students
International students from other countries generally need to apply for a visa before arrival. Please contact the German embassy in your home country and apply for a student visa or an applicant visa. Anyone with written approval for preparatory study measures or a university place from a university can apply for a student visa. Anyone who is still waiting on the notice of admission or who has to sit an entrance examination will need to apply for an applicant visa. Once you arrive in Germany, you will need to submit your visa to the foreigners' authority at the study location in order to convert this to a residence permit for study purposes.
It often takes several months for a visa to be issued. It is therefore important to apply for an applicant visa as soon as possible so that you can arrive before your course commences. You should not wait to receive confirmation of a university place, as the notice of admission arrives very late in Germany. It is preferable to apply for an applicant visa with the university's confirmation of application and then convert it to a residence permit for study purposes in Germany.
Documents required for a visa application
The best course of action is to find information on the Federal Foreign Office's website or directly from the German embassy in your home country; but, in general, you will need the following documents:
a valid passport

the confirmation of application from the university (applicant visa) or the notice of admission from the university (student visa)

proof of adequate funds for living expenses (proof of financial resources)

health insurance coverage
PROOF OF FINANCIAL RESOURCES
Your proof of financial resources verifies that you can pay for your period of study. At least the living expenses for your first year in Germany must be fully financed. In general, around 7,908 euros of income or assets are required for the first year, or 659 euros per month. But evidence of higher amounts may also be requested. The German embassy in your home country will provide more information on the proof that needs to be provided. In principle, the following types of proof are possible:
proof of parents' income and assets

the Foreigners' Registration Offices receives confirmation that someone whose place of residence is in Germany commits to assume the costs for you

a security sum on a blocked account

scholarship from a recognized scholarship foundation

Funding in accordance with the German Bundesausbildungsförderungsgesetz (BAföG - Federal Education and Training Assistance Act).
Finding accommodation
The accommodation situation for students is generally difficult, as cheap accommodation is hard to find. The monthly rent is the biggest item in themonthly expensesand costs students an average of 298 euros per month. Regional differences apply: The situation is most difficult in the major cities in western Germany and in the traditional university cities such as Heidelberg, Tübingen or Freiburg. By contrast, the situation is more relaxed in eastern Germany, where the average rental prices are lower.
Living expenses
Living expenses in Germany are slightly above average in a European context. They are below those of countries such as Denmark, Luxembourg or Switzerland, but are quite high compared to countries such as Asia, Africa or Latin America.
PRICE OVERVIEW
1 loaf of bread: EUR 1.20 - 3
1 kilo of apples: EUR 2
1 kilo of potatoes: EUR 1
1 liter milk: EUR 0.60 - 1
1 bottle of mineral water (0.75 liters): EUR 0.30 - 0.80
1 cup of coffee (in a café): EUR 2.50
1 beer (in a pub): EUR 2 - 3
1 pizza in a restaurant: EUR 4 - 6
1 pair of shoes: EUR 30 – 100
1 T-shirt: EUR 7 - 50
1 pair of trousers: EUR 30 - 100
1 cinema ticket (student discount): EUR 5 - 8
1 theatre ticket (student discount): EUR 6 - 30
1 ticket to a museum (student discount): EUR 2 - 8
A German student's average monthly budget amounts to 864 euros. This includes the rent, travel expenses, costs for food, clothing, learning material, healthinsurance, phone, Internet, radio and television fees and expenses for leisure activities. It does not include the semester fee, which needs to be paid prior to every semester as part of re-registration. This means that higher costs arise at the start of the semester. International students have significantly fewer funds than their German counterparts and have to finance their everyday activities with an average of 725 euros.
WHAT DO GERMAN STUDENTS PAY MONEY FOR EVERY MONTH?
Rent (incl. ancillary expenses): EUR 298
Food: EUR 165
Clothing: EUR 52
Travel expenses (car/public transport): EUR 82
Health insurance and medical costs. Medication: EUR 66
Phone/Internet/Radio/TV fees, postage: EUR 33
Course materials/learning materials (books, etc.): EUR 30
Leisure, culture and sports: EUR 68
Total: EUR 794
About the Author