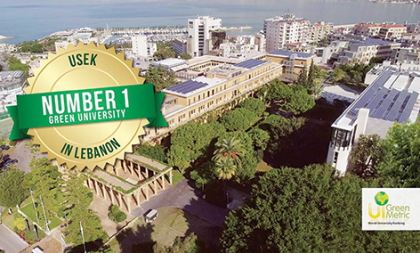 Why Choose USEK?
Institutional and Program Accreditations

High Quality Educational Programs

Teaching Excellence and Innovation

Interactive and Engaging Classrooms

Internationalization

Entrepreneurship

Social and Environmental Commitment

Accredited Students Support Services

Generous Scholarships

Career Guidance Programs

Dynamic Campus Life and Extracurricular Activities

Diversity and Inclusion
A glorious future taking root in a prestigious past
USEK is a private Catholic institution of higher education founded in 1938 by the Lebanese Maronite Order (OLM), and which has been governed by them since its inception. While having a glorious past, USEK does not rest on its laurels and is always thriving for future achievements, using the fruitful present as a stepping stone.
The tradition of excellence rooted in the OLM is being translated on the academic and administrative levels at USEK, helping it secure its international position via a solid global strategy.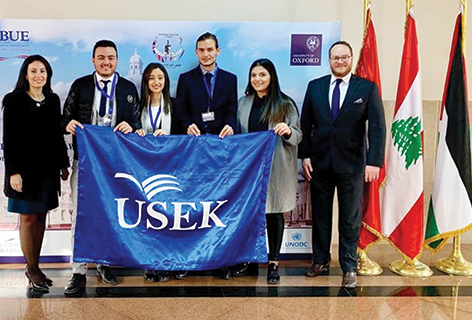 A university on the Lebanese Mediterranean coast
On the coast of Mount Lebanon, overlooking the Mediterranean Sea, the university boasts a lively campus, full of greenery with architectural buildings stemming from different eras, all mixing together in full harmony. USEK is located in Jounieh, a town where culture, sport events, tourism, architecture, old souks, nightlife, excellent dining, and shopping converge.
USEK also has peripheral regional university centers (RUCs) in the Beqaa Valley (Zahle) in the North of Lebanon (Chekka), and in the South (Rmeich), thereby fully insuring that geographical location is no hindrance for an excellent education when it comes to the Lebanese youth.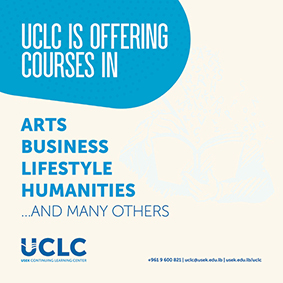 Academia at its finest level
USEK offers around 164 programs in the fields of arts, architecture and design, business, humanities, engineering, law and political sciences, letters, medicine and medical sciences, sciences and theology. Programs of study include freshman, undergraduate, graduate, doctoral, online and continuing education. Students are welcome at the main campus in Kaslik and the three regional university centers in Chekka, Zahle and Rmeich all green, eco-friendly environments thanks to the University's Zero Waste to Landfill program, which has resulted in USEK being ranked 1st place for Most Sustainable and Green University in Lebanon according to the UI GreenMetric World University Rankings 2017 and 2018 consecutively.
Programs & Disciplines
Architecture & Design
Architecture

Interior Architecture

Communication & Visual Arts

Digital Media

Contemporary Art
Business
Audit

Banking Operations & Management

Business Computing

Digital Management

Finance

Hotel Management

Human Resources

Management

Marketing

Transport & Logistics
Engineering
Agricultural

Biomedical

Chemical

Civil

Computer

Electrical & Electronics

Food Engineering

Mechanical

Petroleum

Telecommunications
Medicine & Medical Sciences
Health Fundamental Sciences

Doctor of Medicine M.D.

Diploma of Specialized Studies

Nursing Sciences
Law & Political Sciences
Law (Public / Private / International &

Comparative Law / International Contracts/

Business)

Criminology

Political Sciences

International Relations

Diplomacy & International Security

Middle Eastern Studies
Theology
Theology (Canonical Bachelor / Master / Ph.D.)
Arts & Sciences
Cinema & Television

Education

History

Information Studies

Intervention & Social Work

Journalism & Communication

Languages & Literature (Arabic, French, English)

Philosophy

Psychology

Social Sciences

Teaching Diploma
Arts & Sciences
Translation

Conservation, Restoration of Cultural Property

and Sacred Art

Higher & Specialized Music Education

(Occidental Classical Singing / Arabic Singing/

Music Composition / Solfeggio-Dictation /

Musical Instrument)

Liturgy

Music (Musicology / Musical Education /

Sacred Music / Music Industry)

Performing Arts

Religious & Pastoral Education

Religious Sciences

Actuarial & Financial Mathematics

Biology

Biochemistry

Chemistry

Computer Science

Cybersecurity & Cyberdefence

Environmental Technologies

Information Technology

Mathematics

Nutrition

Neuroscience & Biotechnology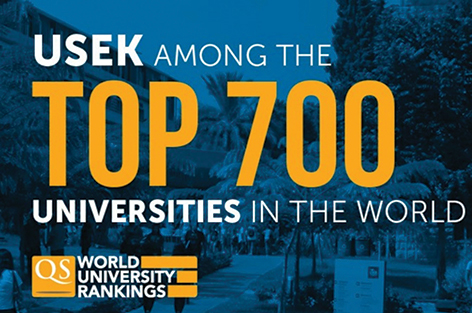 A tradition of excellence
The Holy Spirit University of Kaslik (USEK) has an outstanding reputation for student success, teaching and innovation. Rigorous coursework, hands-on opportunities and multidisciplinary educational opportunities are available to help students in every stage of their career and lifelong learning.
USEK's reputation among academics and employers has prospered over the years, resulting in USEK being classified among the Top 700 Universities in the World according to QS World University Rankings 2019.
Excellence in teaching, quality control, and wellbeing on campus have been an integral part of USEK's strategic plan ever since its establishment by the Lebanese Maronite Order (OLM) in 1938. USEK voluntarily seeks international external evaluations and accreditations, and today USEK has triple accreditations at institutional, student support services, and programs levels:
(1) European Institutional Accreditation: The Accreditation Commission of evalag officially accredited USEK in December 2012 for a five-year period. And in June 2017, USEK was re-awarded the evalag international label for Institutional Accreditation for another five years until 2022.
(2) Student Support Services Accreditation: The UK Matrix accreditation body accredited USEK's student support services in 2015, confirming that USEK is committed to offering high quality services to its students for their welfare on campus, and ultimately for supporting them in their learning, career and life goals.
(3) Programs Accreditation: USEK pursues continuous curricular and program improvement in order to support program accreditation. Several programs have been accredited by American and European Accreditation bodies, and other programs in Business and Architecture are in process. The following programs are officially accredited by: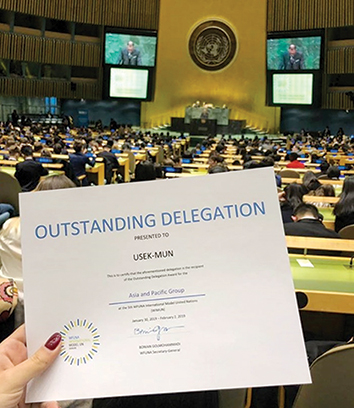 ABET – Applied and Natural Science Accreditation Commission
BS in Actuarial and Financial Mathematics

BS in Nursing
ABET – Computing Accreditation Commission
BS in Computer Science

BS in Information Technology
ABET – Engineering Accreditation Commission
Diploma in Agricultural Engineering

BE in Biomedical Engineering

BE in Chemical Engineering

BE in Civil Engineering

BE in Computer Engineering

BE in Electrical and Electronics Engineering

BE in Mechanical Engineering

BE in Telecommunications Engineering
evalag
BA in Language and Literature

BA in Journalism and Communication

BA in Modern Languages and Translation

BA in History

BA in Education – Basic Education

BA in Psychology

BA in Philosophy

BA in Social Sciences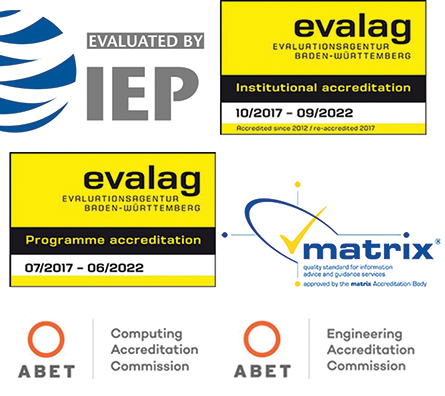 USEK has not only majors, but also minors which students can add to their areas of study, benefiting from a mixed education which is specifically tailored for the job market so as to diversify their knowledge and be able to go hit the ground running after graduation.
In the words of Sarah Stephan a student having a major but also a minor:
"In addition to the major I have chosen to pursue, USEK gave me the chance to broaden my knowledge by adding a minor. This allowed me to pursue my personal interest without having to go for a double major, expand my knowledge in more than one field and have a competitive advantage in the job market". Sarah Stephan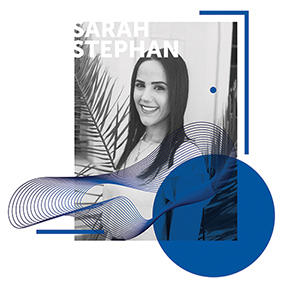 Languages
In addition to the three main teaching languages, French, English and Arabic, USEK offers additional language courses, such as Spanish, Syriac, Italian, and Chinese, to ensure its students have the opportunity to expand their linguistic and cultural proficiency for the global market.
An international study experience
With more than 140 partner universities around the world, USEK students have opportunities to enroll in more than 40 exchange and joint programs. They can easily study abroad and get acquainted with different cultures and settings away from their own, giving the term "education" a broader more holistic sense. It is to note that within this frame USEK also receives international students and support them throughout the process of admission and registration and during their stay.
In the words of Guillaume Chana, an exchange student:
" USEK, the best host for a new amazing international experience". Fernando Garcia Revuelta.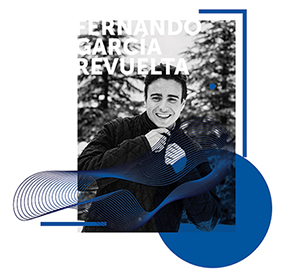 When back up takes center stage
USEK's library, apart from being rich with rare and hard to find publications and manuscripts, is one of the most prestigious libraries in the region. Beside its educational mission, it is a center for preserving Oriental heritage.
USEK research laboratories offer state-of-the-art equipment, on par with what is expected of an institution focused on supporting its rich study programs.
Numerous amphitheaters on campus offer space for convergence on lecturing, symposia, performance and projections.
The Archaeological Museum is home to some of the most important artifacts from numerous archeological locations around Lebanon.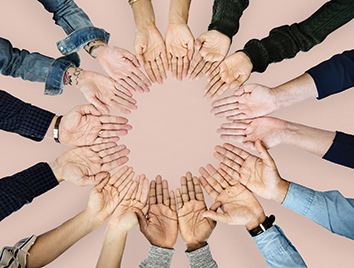 Diversity and Inclusion: one of USEK's pillars of excellence, innovation and sources of Strength
Because USEK believes that diversity in people results in diversity of ideas, it strives to be a diverse and inclusive environment for students from different religions, races, those with disabilities, special needs, and anyone – regardless of their ideology and background – wishing to be part of its sphere. This spirit of diversity and inclusion promotes cultural awareness and understanding among the students and enhances their educational experience.
The Learning and Teaching Excellece Center (LETC)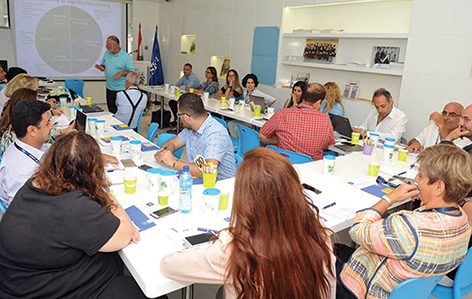 The LTEC helps students, faculty and staff transforming their passion into performance:
Excellent educational and academic experience

for students

Continuous development opportunities for

Faculty.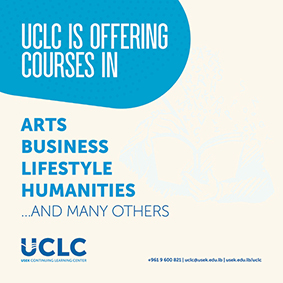 The USEK Continuing Learning Center (UCLC)
The UCLC offers a quality learning environment for lifelong learners to encourage intellectual curiosity throughout life.
The Asher Center for Innovation and
Entrepreneurship (ACIE)
A platform for innovation, entrepreneurship, incubation, mentoring, and value creation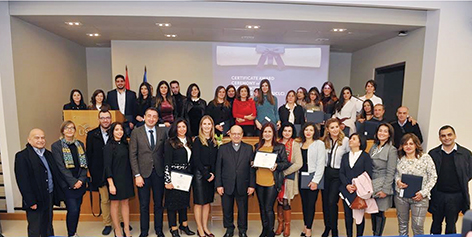 Beyond the classroom
The university is aware that "education" not only happens on an academic level but also as a forging of the character and personality of the student through extra-curricular activities, campus life, hobbies and side knowledge acquired in an informal setting.
Highly engaged, USEK students participate in a variety of national and international competitions, challenging convention and demonstrating intellectual and athletic prowess. Through their achievements, they are shaping the future on campus and beyond.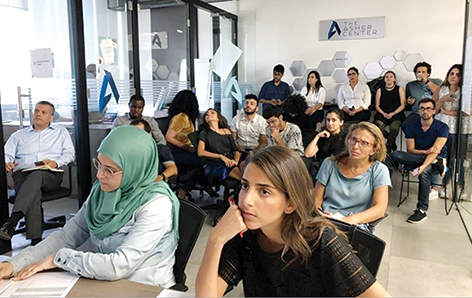 Career Guidance:
USEK's Career Services Office makes a meaningful contribution to students' experience, inspiring and empowering them to be the best they can be, to fully develop their potential, and to kick-start their career confidently. Apart from career guidance, USEK has a new online portal which has been designed to accommodate the recruitment needs by linking companies directly to USEK students on a secure one-to-one website.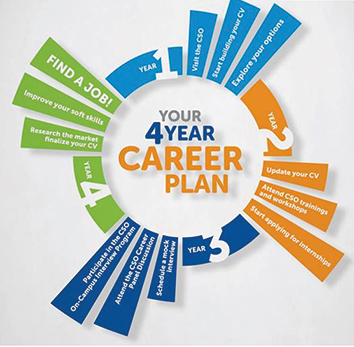 USEK, is the right place that extends a "welcome to your future" because:
USEK enjoys many accreditations across faculties and programs and has proved to be compatible with the highest levels of learning required from universities and compatible with the most stringent academic and managerial standards.
Our educational programs are up to date and many courses change with the advent of new technologies, updated processes, learning methods and new means of knowledge sharing.
The quality of our teaching staff, who enjoy wide experience in their fields in addition to the necessary academic acumen to transmit information, only keeps on improving due to the research and publications they work on, but also to the many international and local meetings they attend.
Classrooms are - not just made up of walls and chairs - but also include technology backups, field visits, practical expertise, interactivity, international scholars' visits, and many other means whereby teachers and students exchange knowledge via mental osmosis.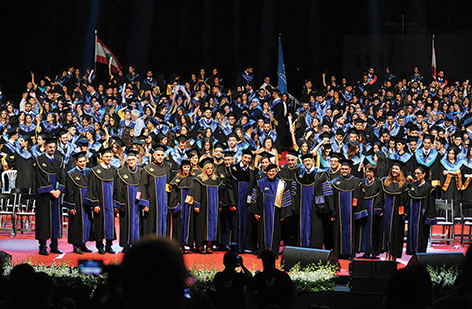 Being on the international map is a core part of the USEK DNA, not just via partnerships with other institutions but also via the many academics and thinkers it hosts throughout the year, exchanging thus information with the USEK staff and collaborative projects to top it all.
Scholarships and financial aids are given to needy but academically competent students, whereby each case is treated on its own and support is offered to the students in question, so as for them to keep being the best students they can be regardless of their socio-economic class or family circumstances.
HOLY SPIRIT UNIVERSITY OF KASLIK