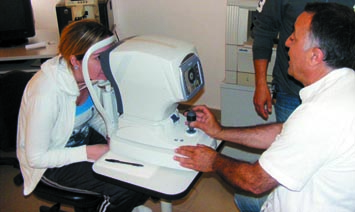 The Faculty of Public Health offers a Bachelor Honors Degree in Optics and Optometry, in 4 full time academic years, in order to get a job title of "Optician-Optometrist".
Program Description
The program is similar to the European's highest ranked Optometry program for students satisfaction. Accordingly to the European Diploma teaching program, this course provides them with the theoretical and practical knowledge and skills needed to become a qualified "Optician-Optometrist". Our program of professional education combines in depth academic study and practical work in specific laboratories on campus, with practical guided and supervised experience in the program's affiliated optic shops, optic industries, hospital eye clinics and eye centers.
Scope of Practice
The scope of practice is defined as the legally permitted field of professional activity or area of professional competence in Lebanon.
The Optics-Optometry Degree
The Optician-Optometrists are the primary health care practitioners of the eye and visual system who provide comprehensive eye and vision care, which includes refraction and dispensing, as well as detection of eye diseases, and the rehabilitation of conditions of the visual system.
They will have excellent career prospects in:
• Assisting ophthalmologists in their
clinical routine eye refraction and contact
lens fitting
• Performing a full eye screening in schools, industries and companies
• Performing soft, hard and advanced contact lenses fitting
• Assisting in vision therapy and low vision optical rehabilitation
• Performing different ocular investigative techniques
• Assisting refractive laser surgeons,preparing and counseling the refractive surgery patients
As well as in:
• Optical industry
• Optical research
• Private practice, in their own Optic shop,in partnership or as an employee of a large optical company.
Language of teaching
English language only.
Section:
Section 1 - Hadath campus.