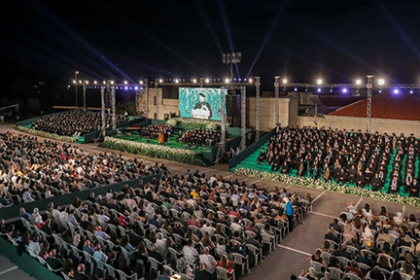 LAU honors the classes of 2020, 2021 and 2022 over two much-awaited, emotional ceremonies.
Over the two evenings of June 14 and 15, lights filled the sky over LAU Byblos campus in jubilant celebration of the 2,889 graduates of the classes of 2020, 2021 and 2022, following a two-year hiatus imposed by health restrictions.
On the ground, families, friends and the LAU community were ecstatic, as graduates walked proudly in their caps and gowns – a moment that stood to defy the series of hardships that they had collectively lived through in the past three years.
The very revival of LAU's Commencement Exercises – the 97th in the university's history – told a story of triumph over adversity, of "Prevailing Together."
Speaking at the June 14 ceremony, valedictorian Rose Mary Choucair acknowledged the "feeling of uncertainty, the fear of the unknown, the urge to give up and the mental health issues that we have all faced during these years." That is why the mechanical engineering graduate considered the graduation "not only an act of personal commitment, but also one of pride and resistance."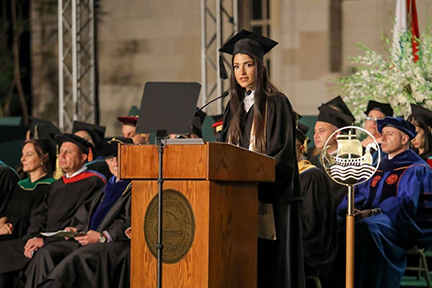 For class valedictorian Yara El Zoughbi, who spoke on June 15, "these obstacles were an opportunity to strengthen our resolve and will to succeed." As a biology premed major, she was confident that the experiences and education received at LAU will unlock the best that is yet to come.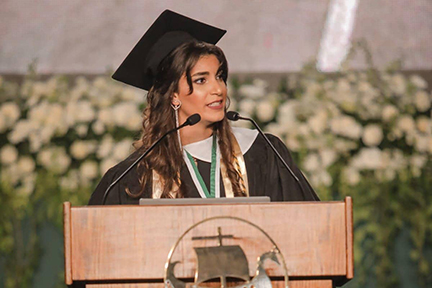 To that end, LAU President Michel E. Mawad urged the graduates to "go out to the world as LAU ambassadors and shine where there is darkness, serve where there is need, lead where there is a humane cause to embrace and soar to the limits of your horizon."