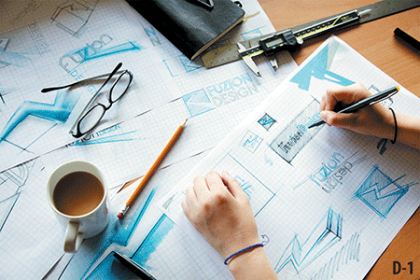 Industrial/product designers are responsible for the design, creation, testing and development of new products. These guys utilize their specialist knowledge and practical experience of creative design and engineering to produce functional, effective and aesthetically pleasing products.
Product designers can get their teeth into all kinds of projects across a range of different industries. For instance, you might be designing anything from toys, kitchen utensils and office equipment to medical devices, laboratory apparatus and industrial contraptions.
The products you design (as industrial designer) may be intended for limited production or mass manufacturing and, therefore, they will need to be optimized accordingly. Product designers don't just design, exciting products; they may also make vital modifications to existing designs in order to improve their functionality or visual appeal.
Industrial/product designers are employed by industrial organizations, manufacturing companies and private consulting firms in the design, engineering and technology industries, while others may work in high-tech research and development laboratories.
If you enter this profession, you'll be discussing design requirements, technical specifications and other criteria with clients and other members of the design team. Following this consultation period, you'll be responsible for preparing detailed drawings of the product, before developing sample prototypes for testing purposes. You'll be conducting tests that assess the product's durability in response to adverse conditions and unfavorable situations.
After the testing process, you'll be making essential tweaks and adjustments to the design and optimizing every little detail. You'll then be tasked with setting out the guidelines and procedures that will be employed in the full-scale production process, especially surrounding quality assurance.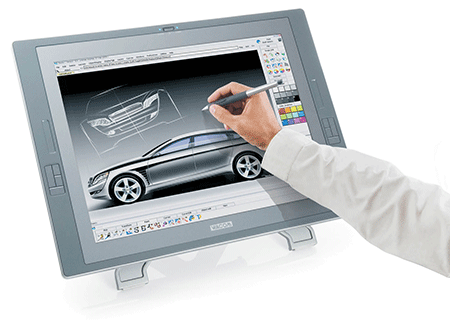 Responsibilities
The work carried out by an industrial/product designer varies and it can be very busy juggling different projects. It may include some of the following:
meeting with clients to establish the design brief,

including the concept,

performance and production criteria

working on ideas as part of a team or
developing design concepts using CAD (computer-aided design)
taking part in specialist or multidisciplinary team

meetings

sketching initial design ideas

identifying the suitability and availability of

materials

producing detailed, final hand drawings and

specifications or, more likely, using dedicated

computer software (CAD) to produce design

specifications, including parts lists and costing;

making samples or working models by hand or

using computerized prototyping equipment

testing the design concept by computerized

modeling or physical hands-on testing of models

researching materials, processes or market

requirements

arranging meetings and liaising with engineers

and other departments, including marketing,

to discuss and negotiate appropriate production

processes, costs and commercial issues

occasionally travelling to clients' production

facilities and evaluating the feasibility of

production

making presentations to senior design

management or clients, either when bidding for a

contract or to present design proposals.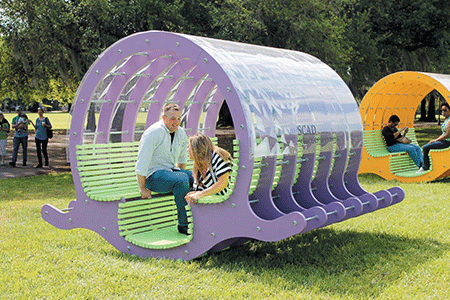 What to expect
The working environment is typically a shared

studio/office and PC workstation. This may be

situated in close proximity to the shop-floor

production area to facilitate close liaison with
production engineers.
Self-employment or freelance work is quite

common but normally occurs after developing a

track record of relevant industrial experience and

a network of contacts and potential clients.
Although the industry welcomes more female

entrants, there are still fewer women than men

in the profession. Travel within a working day,

absence from home overnight and overseas work
may be needed occasionally.
Most industrial/product designers have a university degree in the field , There are many courses in universities and colleges that offer a design element as part of general design or technology studies, which would also be relevant.
In addition to product design, the following subjects may be useful:
spatial design

3D design

industrial design
A Masters degree or other postgraduate qualification might be an advantage in certain sectors, especially when working with European customers and competitors. Search for postgraduate courses in product design.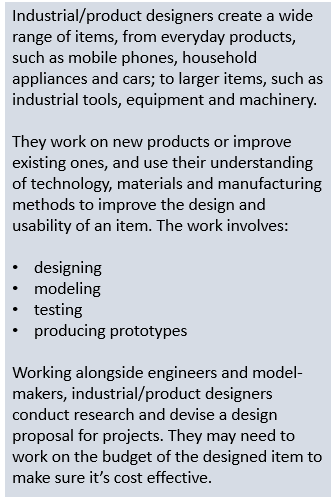 Skills
You will need to have:
a high degree of technical knowledge balanced

with creative ability and a hands-on approach

visual and spatial awareness

commercial awareness

computer literacy (three-dimensional conceptual

ability and CAD (computer-aided design)

knowledge of industrial processes/techniques

and standards;

communication and customer-facing skills

the ability to cope with the pressure of deadlines

a willingness to build and maintain positive

working relationships and to share information

with others

determination to achieve an end result, and

optimism and enthusiasm when things don't go

to plan.
International mobility may be required when working for multinational manufacturers and may influence promotion prospects, as will foreign language ability.
Work experience
Pre-entry experience is highly desirable. Experience gained through an industrial placement, freelance work, design competitions, exhibitions or a specific project gives a distinct advantage.
Be proactive from early on in your course by gaining experience and developing contacts in the industry. Consider becoming a student member of relevant professional organizations to help expand your contacts and keep up to date with developments in the industry, see the Chartered Society of Designers (CSD).
Get your portfolio checked by a design professional. Ensure that it has evidence of the breadth of your work and any specialist interests, and that it shows how your design ideas were conceived and developed.
For access to information about a range of design careers take a look at Creative Choices.
Professional development
Training is mainly on the job and in areas such as computer-aided design (CAD) and product knowledge. Throughout your career, you'll be required to enhance your expertise through in-service training to acquire specialist knowledge of equipment and software.
Typical employers of industrial designers
commercial manufacturers

industrial manufacturers

domestic product manufacturers

design consultancies

point of sale designers
Qualifications and training required
Most product designers possess arts, design or product design degrees. Postgraduate qualifications can be helpful for graduates from other relevant disciplines and for job opportunities within specialist market sectors. Pre-entry experience gained via vacation work, industrial placements, design competitions and final year projects is advantageous.
Key skills
Good visual and spatial awareness

Well-developed technical and creative skills

Commercial awareness

IT skills, including CAD

Communication and interpersonal skills
The counselor says
Where to study Industrial Design in
Lebanon?
You can study this major in the following Universties:
ALBA,(Sin el-Fil-Beirut), MUT (Tripoli)