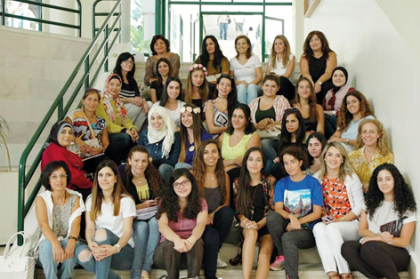 Have you ever considered becoming…
a
Teacher
who allows students to critically approach new situations, inventions and discoveries?
an
Educator
who is an essential person directly responsible for the development of a curious and creative child?
a
Mentor
who insists on the integrity of the human being and can find solutions or alternatives to both practical and philosophical problems?
The Department of Education at the University of Balamand offers several paths for teacher preparation. We seek to develop innovative teachers and teacher leaders who are knowledgeable, skillful, and scientifically minded. As importantly, we seek to prepare individuals who promote human and professional integrity and the higher morals involved in teaching.
The Department of Education offers undergraduate and graduate degree programs in both English and French.
Degree

Duration

Total Credits

Bachelor of Arts

3 years

92

Teaching Diploma

TD in Elementary Education(Primary School- Grades 1 through 6)

TD in Specialized Education (Middle and Secondary School)

1 year after the BA

21

Master in Curriculum and Educational Management

2-3 years

(Full Time)

30

Master in Educational Technology

2-3 years

(Full Time)

33
The Bachelor of Arts
prepares classroom teachers through an interdisciplinary approach that addresses the needs of all learners. Future educators will develop the knowledge about the disciplines taught in schools, the developmental characteristics and needs of learners and will again expertise in interactive teaching methodologies.
The Teaching Diploma
enables individuals to advance their careers and become competitive in general didactics or in a specialized subject area such as Math, Science, Economics, Computer Science, Arabic Language, French Language, and English Language. All TD courses are in the afternoon. All TD students are required to take 3 credits of practicum training, and other classroom observations which are included in the 21 credits.
Master in Curriculum and Educational Management
is a research-oriented degree, which prepares graduates to expand their careers towards the practice of curriculum coordination and enhancement.
Students who pursue an MA in Curriculum and Educational Management can pursue the following careers:
• Curriculum consultants in the governmental and non-governmental domains
The Master of Arts in Educational Technology prepares professionals to use information and communication technologies to support teaching and learning.
Students who pursue an MA in Educational Technology can pursue the following careers:
• Technology coordinators or administrators
• Teacher leaders and trainers
• Instructional technologists
• Curriculum integration specialists
• Instructional designers
•
Lebanese Baccalaureate or its equivalent
•
BA degree and the official transcript for MA and TD applicants
•
A language proficiency exam required by the
University: English or French Language
The Faculty of Arts and Social Sciences is one of the financially supported faculties; it provides a 25% discount for undergraduate programs, and 50% for the graduate ones.
Once you get accepted, you can also apply to the financial aid program via online or filling the application at the OSA (Office of student affairs). Financial aid can cover 10% to 40% tuition fees for your undergraduate and graduate studies.
For further inquiries on any of the programs, please contact us at
This email address is being protected from spambots. You need JavaScript enabled to view it.
and we will refer you to an advisor.
Koura Campus: 06950230, ext. 2275
Souk el-Gharb campus:
05272 078, 05270 872, ext. 5508, 5525
Like us on Facebook:
@educationUOB