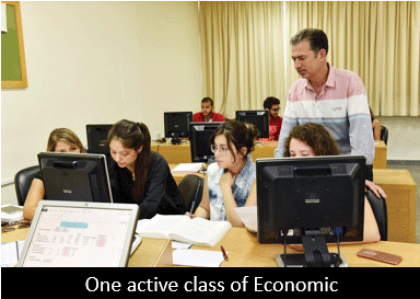 Our Priority is Your Success We Aim for Excellence!
The Faculty of Business and Management (FOBM) at the University of Balamand offers 3 undergraduate programs in the fields of Business (including four undergraduate concentrations: Banking and Finance, Accounting and Auditing, Marketing, and Management), Economics, in addition to Tourism and Hotel Management. This entire section will be dedicated to Economics.
Economics
The Economics program is composed of 93 credits. It provides a firm basis in modern economic theory and develops the capacity for the interpretation and analysis of economic events, understanding both the national and global economy, for solving economic problems and for research on certain topics.
Economics is a very broad field that studies the market behavior of individuals, organizations and governments. Economics covers numerous topics such as trade, financial markets including currencies, labor, development, and politics among many others.
Students may be interested in one field of Economics more than another and that is why as an Economics student, you now have the choice of choosing a particular track after the first year of study. These tracks are included within the three-year program in which you can choose to go for a political science track, business track, finance track or a quantitative track.
Political Science track
This track is accustomed for students who have an interest in politics and international relations and wish to learn more about the interaction between the economy and politics.
Business track
This track is for students who are interested in economics from a business perspective, taking courses in marketing, management and organizational behavior.
Finance track
Students who are interested in financial economics are encouraged to choose this track as it combines these two interrelated disciplines.
Quantitative track
Students who excel at Mathematics and enjoy the quantitative aspect of Economics are encouraged to choose this track.
Job Opportunities:
.

International Organizations
.

Non-governmental organizations (NGOs)
.

Banks and financial institutions
.

Governmental institutions
.

Marketing research firms
All Economics students have the chance to apply for student work at the Faculty's Economics and Capital Markets Research Center (ECMRC) and benefit from placing this experience on their CVs. Through their work at the center, they will experience the world of international markets and learn how to monitor economic events and indicators and make sense of this data and also practice writing their own economic reports.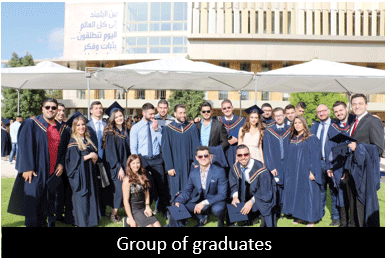 Life at FOBM is not only about coming to classes and studying! Our students are engaged in many activities including seminar series, workshops, conferences, competitions, career advising, guidance and counseling in addition to tutoring services in some key courses. Furthermore, students benefit from a lot of extra-curricular activities through clubs, cultural activities, festivals and corporate trips, among others.
Students applying to FOBM are eligible for:
.

Scholarships up to 50% (based on SAT scores and
School Grades)
.

Merit Awards for outstanding performance, and
.

Student employment opportunities (student work)
To learn more about FOBM, visit the University website: www.balamand.edu.lb
Like us on Facebook: Faculty of Business and Management
Follow us on Twitter @FOBMbalamand
Contact us at 06-930250 Ext: 3851-3862
Email: This email address is being protected from spambots. You need JavaScript enabled to view it.