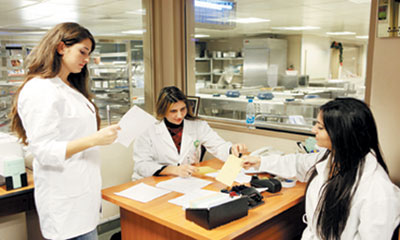 Nutrition is an exciting and ever changing field that enables our prospective students to become well developed professionals who can then be leading reference points in the fields of Nutrition, Health and Food Sciences in Lebanon and the region. The field of nutrition has a place for students whether they are interested in clinical nutrition, food and food systems, working in communities, in research centers, or if they have an entrepreneurial spirit.
As one of the Faculty of Health Sciences Programs, the Nutritional Sciences Program emphasizes the role of nutrition in the health and well-being of people. The Nutritional Sciences Program is an interdisciplinary program that offers two Bachelor of Science (BS) degrees: BS in Nutritional sciences and BS in Food Science and Quality Assurance.
The Nutritional Sciences Program is in continuous development and is currently offered at the Main Campus (Al Kurah) and at the Achrafieh Campus (Beirut). The laboratories are being equipped with educational and research materials that will serve as means for students to acquire skills in practical assessment, counseling, and nutrition education, and become involved in research and community projects.
Student testimonials
"Applying to universities is one of the challenging verdicts a student can confront and selecting the suitable one is probably even more strenuous. Personally, one of the Universities that were on my list was the University of Balamand, where I ended up going to for attaining my degree in Nutritional Sciences. Our campus, Faculty of Health Sciences, is not a very huge campus but it has a brilliant educational system. My major offers a variety of courses that are flexible, motivating, and everyday life associated that helps me in sharpening my personal potentials. What is also pleasing in this campus is the infinite range of activities accessible to all students regardless of their ideologies or religion, therefore providing a fascinating campus life. Our campus life is nourished by the closely knit relationships between students themselves and with the staff that gave me the opportunity to build long-lasting relationships. In UOB, I strive for superiority and the facility to thrive in such a professional environment."
Maya Makarem
"In our faculty each student is considered as an active member of this small community...[and] is meant to be part of the academic and extra-curricular activities that the university organizes in order to unify the members of different departments of the faculty. This fact provides students with steady bases which help them go through their future with full knowledge of what is waiting for them from commitments, obligations and of course team work in their humanitarian health occupations. The limited number of students in classes ensures that faculty members give each student his/her right in class to interact with the professors who are always ready to cooperate with students to make sure they get their full benefit from the information explained in class and from their academic experience as a whole."
Sabeen Abd El Sater