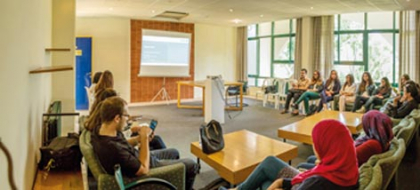 Translation is a creative activity through which translators transcend language barriers, serve as genuine communicators and work on bridging the gap between people and cultures.
The Department prepares students to become professional translators through training in appropriate translation techniques and research methodologies according to professional and international standards.
Our profession today demands language skills, translation techniques and most of all efficiency and harmony. Translators are becoming more and more editors, reviewers and localizers.
Being aware of the importance of new technologies and of the impact of Information Technology (IT) and media on translation, the Department has introduced two courses on revision and editing on the undergraduate level and one course on computer-assisted translation (CAT) on the graduate level.
The students get to study in a state-of-the-art laboratory equipped with the latest translation software (i.e SDL Trados). This is intended to prepare students to market needs and adapt their training to new job opportunities.
The department also organizes a series of lectures by professional translators who introduce students to real work environment. Workshops and intensive seminars in specific domains are also offered as a continuous education program.
Our graduates who speak Arabic as a mother tongue and two or three other languages are highly demanded in the Gulf region as translation into Arabic happens on daily basis at all levels of communication. They are also in high demand in Europe and the US where the knowledge of Arabic aside English, French and Spanish is considered as great advantage at a time when the Arab region occupies an important place in the geopolitics of the world.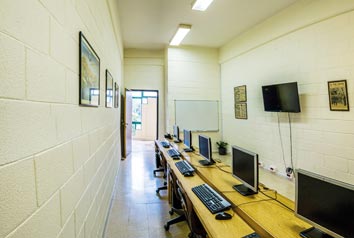 International organizations insist on the need of having well trained interpreters and translators into Arabic. One prominent example is the Special Tribunal for Lebanon STL in The Hague where a number of our students have already joined the Internship Program and were offered a position in the Arabic Translation Unit.
Many students would also wish to pursue a minor degree in Spanish; they are also prepared to take the DELE in cooperation with the Cervantes Institute. Other languages are also offered at the Department such as Chinese, German, Russian and Greek.
UOB encourages students to study translation as career opportunities are so varied and professional translators are increasingly needed.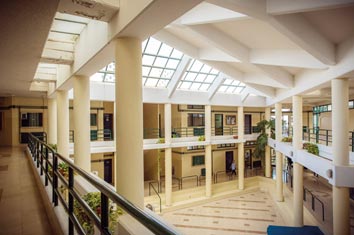 Some career fields include
•
Ministries, embassies, national and international
organizations and NGO's;
•
Subtitling and dubbing companies;
•
Localization, Website translation and Computer
Assisted Translation;
•
Economic Translation (Banks, insurance, trade
companies);
•
Mass Media: TV, radio, newspapers; publishing
houses;
•
Interpretation and on-line translation;
Degree

Years

Language

BA in Languages and Translation

Bac + 3

French/English/Arabic

Diploma in Languages

and Translation

Bac + 4

French/English/Arabic

MA in Languages and Translation

Bac + 5

French/English/Arabic

MA in Conference Interpretation

Bac + 5

French/English/Arabic
The Diploma is equivalent toz a teaching Diploma (TD) and enables graduates to teach in schools.
The MA in Languages and Translation gives graduates the opportunity to become researchers and to continue their doctoral studies in this field.
The MA in Conference Interpretation prepares graduates to work as interpreters in international organizations as the UN, STL, World Bank, UE etc….
•
Lebanese baccalaureate or equivalent
For more details about the program of study we invite you to visit our official web page: www.balamand.edu.lb/Academics/Faculties/FASS/AcademicPrograms
Or contact us on 00961- (0)6930250 ext 2122
PS: The University supports the program with 25% on the BA level and 50% on the MA level.
We also invite you to "like" our Facebook page: Translation society at the University of Balamand, on which we advertise our events and cultural activities.
Chairperson, Department of Languages and Translation
Faculty of Arts and Social Sciences