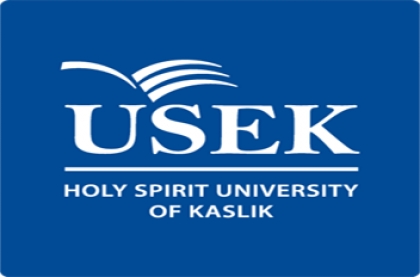 USEK The diplomas delivered by USEK are officially authenticated by the Lebanese state. Curricula are developed in such a way as to prepare future graduates to enter the labor market, by combining theoretical courses with practical work (lab work, traineeships, research projects and multidisciplinary team creation projects, etc.), in addition to providing the basic general knowledge needed to equip graduates within vocational circles and within society.
A wide choice of hi-tech trainings and specializations, which are adapted to the labor market needs and to the community's requirements, are offered to the students enrolled in USEK's ten faculties and four institutes.
Studies in USEK are based on the modular system of units which are accounted for on a half-year basis, or "credits". By adopting this system, the University is complying with the regulations stipulated by the Lebanese state and with the provisions that were recently adopted in European universities, while also remaining compatible with the system in force in US and Canadian universities.

In addition, the adoption of such a structure enables students to enjoy flexibility on all levels for the academic and financial management of the prospective degree courses. It also enables:
- Promotion of students' mobility in Lebanon and abroad: Credits can be accumulated and transferred from one university to another.
- Personalization of the students' training: The academic course of each student is adapted to his(her) personal and vocational project.
- Flexible Organization of the semester: Students are allowed the freedom to choose the number of credits (while abiding by the minimum and maximum numbers set by the University) and the courses taken during the semester (out of a group of courses that are required for a given curriculum), thus enabling them to ameliorate the manner in which they set their schedule.
- Development of close pedagogical support: The follow-up and support provided by the teachers is reinforced by the fact that, thank to this system, education is centered on the students.
- Offer of diversified courses to students: This system promotes a multidisciplinary approach, as well as exchanges within and among disciplines.
- Facilitation reorientation: Thanks to the establishment of links among the various education courses that are proposed, students can easily change their curriculum without losing all their achievements.
FACULTY OF AGRICULTURAL AND FOOD SCIENCES
Bachelor in Human Nutrition and Dietetics - EnglishBachelor in Human Nutrition and Dietetics - FrenchBachelor of Science in Engineering Sciences – Food EngineeringDiploma of Agricultural Engineering
FACULTY OF BUSINESS AND COMMERCIAL SCIENCES
Bachelor in Business Administration - AuditBachelor in Business Administration - Business ComputingBachelor in Business Administration - FinanceBachelor in Business Administration – Management
Bachelor of Engineering in Biomedical EngineeringBachelor of Engineering in Chemical EngineeringBachelor of Engineering in Civil EngineeringBachelor of Engineering in Computer Engineering
FACULTY OF FINE AND APPLIED ARTS
Bachelor of Arts in AdvertisingBachelor of Arts in Design and Applied ArtsBachelor of Arts in Graphic DesignBachelor of Arts in Sacred Art
Law DegreeMaster in CriminologyMaster in Private LawMaster in Public Law
Bachelor of Arts in Arabic Language and LiteratureBachelor of Arts in English Language and LiteratureBachelor of Arts in French Language and LiteratureBachelor of Arts in Journalism and Communication
FACULTY OF MEDICINE AND MEDICAL SCIENCES
Bachelor of Sciences in Health Fundamental SciencesDiploma of Specialized Studies - Anesthesia and Critical CareDiploma of Specialized Studies - CardiologyDiploma of Specialized Studies - Cardiovascular and Thoracic Surgery
Bachelor of Arts in Higher and Specialized Music Education - Music CompositionBachelor of Arts in Music - Musical EducationBachelor of Arts in Music – MusicologyPh.D. in Music and Higher and Specialized Music Education
FACULTY OF PHILOSOPHY AND HUMANITIES
Bachelor of Arts in Education Basic Education (French)Bachelor of Arts in Education Basic Education (French, Math)Bachelor of Arts in Education Basic Education (French, Sciences)Bachelor of Arts in Philosophy
FACULTY OF RELIGIOUS AND ORIENTAL STUDIES
Bachelor of Science in Actuarial and Financial MathematicsBachelor of Science in Biochemistry - English SectionBachelor of Science in Biochemistry - French SectionBachelor of Science in Chemistry
PONTIFICAL FACULTY OF THEOLOGY
Bachelor of Arts in TheologyMaster of Arts in TheologyPh.D. in Theology
Bachelor of Arts in HistoryMaster of Arts in HistoryPh.D. in Archeology and Art HistoryPh.D. in History
HIGHER INSTITUTE OF NURSING SCIENCES
Bachelor of Science in Nursing Sciences
Bachelor in International RelationsBachelor in Political SciencesMaster in Diplomacy and International SecurityMaster in Political Sciences